January 29th, 2014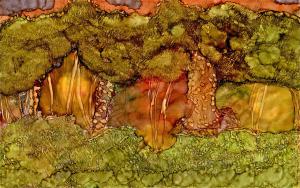 Have you ever heard of Yupo paper? Actually, it's not really even a "paper". It is made of
a synthetic polymer and has many positive aspects. Here's a description from Jerry's Artarama, and artist supply store:

"The world's first erasable watercolor paper!
Yupo is the first and most popular synthetic art paper on the market. The non-absorbent, ultra-smooth surface allows paints like watercolor and acrylics to sit right on top of the paper, making for beautiful, watery effects unachievable on any other paper. It also holds pen and ink lines with razor sharp precision, and markers work beautifully on Yupo's unique surface as well. With its durable, non-tearing construction it can withstand multiple erasures and you can even run it under a faucet to erase watercolors! The non-absorbent nature of Yupo also means it will not buckle, no matter how much water you put on it, and it makes colors more vibrant and brilliant than on standard papers as all of the color sits on the surface. Available in medium and heavy weight white varieties and now new translucent Yupo! Explore the versatility of synthetic paper with Yupo, the world's first erasable watercolor paper!"


Here are some pieces I have created using Yupo and alcohol ink.






It was great fun, and I hope to try other ideas as well. The colors are vibrant and you know how I love color!